Dr. Giordano Retirement Letter:
October 12, 2021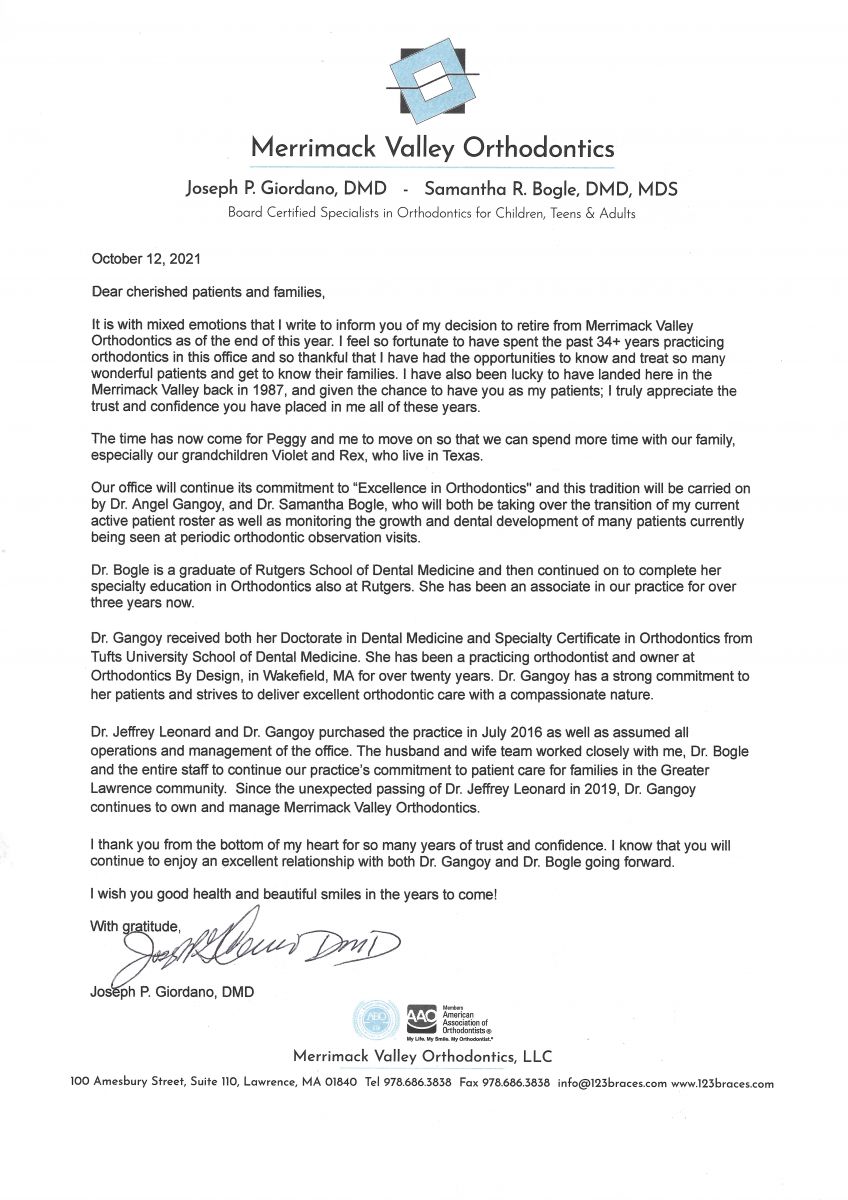 Congratulations to our Former Orthodontic Assistant!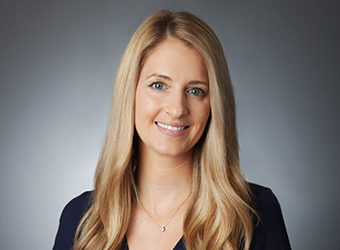 Congratulations to Dr. Giordano's daughter, Dr. Elisa E. Giordano, on completing her orthodontic residency from the Georgia School of Orthodontics.
COVID-19 OFFICE ALERT:
June 19, 2020
OUR SAFETY GUIDELINES AND PRACTICES
SCHEDULING OR RESCHEDULING AN APPOINTMENT:
We are now actively scheduling appointments. We ask for your patience as we are initially operating on a limited schedule and making every effort to prioritize the most urgent needs first. Please be patient as our scheduling coordinators will be contacting you or you will be receiving a future appointment at your office visit.
If you are scheduling a new appointment with our office, please call 978-686-3838. We'll be happy to answer any questions regarding our safety protocols and discuss any paperwork requirements prior to your visit.
BEFORE YOUR APPOINTMENT:
If you, or your children, are not feeling well, have had a fever, cough, or shortness of breath within the past two weeks, or if you believe anyone in your family has been exposed to COVID-19, PLEASE do not come in for your scheduled appointment. Instead, please call the office and we will work to reschedule that appointment.
Please help us be efficient with your time. If there is a need to update any medical or insurance information, please call to communicate with one of our Appointment Coordinators prior to your or your child's appointment.
IMPORTANT: A brief health questionnaire and an informed consent form link will be texted to you the day prior to your appointment. Please bring these completed forms with you to your appointment.
DURING YOUR APPOINTMENT:
Please plan to be on time for your scheduled appointment as we stagger appointments between patients to maintain distancing guidelines. For this reason, we may need to reschedule the appointment for any patient who is excessively late to arrive.
1. When you arrive in the parking lot, please text our office at 978-686-3838 to check-in. We will text or call you back when we are ready for you to come into the office.
2. Everyone entering the building will be asked to provide and wear their own face mask to their appointment.
3. All patients entering our office will have their temperature taken upon arrival. A patient with a temperature greater than 100.4 degrees will not be seen and will need to be rescheduled.
4. We encourage all parents to return to and remain in their car during their child's appointment. We will text or call you at the conclusion of the appointment to come into the office and escort your child back to your car.
OUR SANITATION PROTOCOLS:
A properly managed dental office has always been a very safe environment for patients, staff, and doctors.
Here is what we're doing to ensure patient health is protected during your visit:
● We sanitize our public areas such as check-in and check-out areas, tables, door handles, and other hard surfaces after each family visit.
● We thoroughly clean each clinical room by wiping down all potential areas of contact such as doorknobs, chairs, and equipment with medical-grade disinfectant wipes and spray between each patient.
● Our office is being vigilant about frequent hand washing and regular use of hand sanitizer between each patient encounter, as is standard for our practice.
● Doctors and clinical staff have been trained in the proper use of personal protective equipment to include masks, shields, goggles, and gloves as per CDC recommendations for direct health care facilities.
● We instruct any employee who feels ill to stay home and consult their healthcare provider.
We Have Missed You All and Are Very Excited to Get Back to Doing What We Love to Do...
Make Beautiful SMILES!!!
Sincerely,
The Team at Merrimack Valley Orthodontics, LLC
COVID-19 OFFICE ALERT:
May 18, 2020

Based on Governor Baker's Phase 1 plan announced today, we hope to begin seeing patients starting Wednesday, May 27th. We will have a limited number of appointments and will only be doing specific NON-aerosol producing procedures during this initial phase. Our front desk staff will be reaching out over the next few weeks to reschedule appointments that were canceled since March 15th.
May 9, 2020
Our office will be re-opening soon! Please read about our new procedures and protocols for patient appointments.
Dear Parents and Patients,
We hope this letter finds you and your family in good health. Our entire team is looking forward to getting back to the office and providing care for our patients. While many things have changed, one thing has remained the same, our commitment to the safety of our patients and staff.
Infection control has always been a top priority for our office. We use state-of-the-art sterilizers and have customized stations that support a one direction sterilization system preventing cross-contamination of instruments. We maintain and monitor our dental equipment and water lines with scheduled maintenance protocols and weekly tests. These tests are run and then submitted to a third party for processing and interpretation of results. The infection control procedures we have always followed in our practice have allowed us to keep patients safe as well as protect our staff.
We follow the infection control guidelines set forth by the American Dental Association (ADA), the U.S. Centers for Disease Control and Prevention (CDC), and the Occupational Safety and Health Administration (OSHA). We remain proactive in monitoring activities of these agencies so that we remain up-to-date on any new rulings or guidance that may be issued. We do this to make sure that our infection control procedures are current and adhere to each agencies' recommendations.
The office plans on reopening in the coming weeks and is in the process of finalizing new policies, implementing additional clinical precautions, and working tirelessly to create a new schedule. The new scheduling process will take into consideration social distancing requirements and additional safety protocols necessary for specific aerosol producing patient procedures. We want to inform you that when we re-open we will have new precautions in place to ensure everyone's safety.
As you can imagine numerous patient visits are being reappointed. Our office staff will continue contacting patients via email, text or phone calls in the coming days in order to schedule your next in-office visit. We ask for your continued support and patience as we highly value each one of you.
Our New Scheduling Format
Patient appointments are associated with specific treatment procedures. Some procedures have higher potential than others of generating bio-aerosols. Appointments will be prioritized by the procedure the patient will have at that visit and the level of aerosol production. Most orthodontic treatment visits are associated with low generating aerosol procedures and usually pose limited risk to our staff and other patients. Procedures that involve splatter of water or saliva have higher chances of creating aerosols and thus increase the risk of exposure to everyone at the office. We have revised our patient appointment schedule to allow for social distancing and provide specific scheduling times for higher aerosol producing visits. In an effort to do our best to comply with new guidance, our new scheduling format currently allows for greater time between patients, reduces exposure risk to both our patients and staff, and reduces the number of patients in our office at any one time. When taking all of this into consideration, it became evident that we had to consider a different approach when rescheduling patient appointments during these unprecedented times. We look forward to seeing you again and are happy to answer any questions you may have about the steps we have taken to keep you, and every patient safe in our practice.
As a result of the additional precautions we are following, we would like to make you aware of several changes we are implementing to further protect our patients and staff. A few examples are :
Before Your Appointment:
We will contact you the day before your visit to confirm your appointment and ask some wellness screening questions.

Please be aware ONLY patients will be allowed in the office; we ask that parents and family members wait in the car.

ALL patients must bring and wear a mask to their visit. Our brushing stations will be closed, so please brush and floss thoroughly before you come for your visit.

Do not eat or drink anything extremely hot or cold 30 minutes before your visit (it can alter your body temperature).

Please be aware, your visit will be reappointed to a different day in the event of a temperature reading above >100.4 F
Arrival at Office:
When you arrive, Call or Text

978-686-3838, letting us know you are here. Please remain in the car until we call or text you back letting you know it is safe to come in.

Patients and escorts must be wearing a mask before entering the office building- NO EXCEPTIONS CAN BE MADE.

When you come to our office, you will immediately be met by our Staff Greeter at the entrance of the waiting room.
Greeter will take the patient's temperature, ask Wellness Screening Questions, have you SIGN a brief medical history form and a one-time additional informed consent form, and then offer you some hand sanitizer to clean your hands. It would be appreciated if you can bring your own pen to sign the forms. NO PATIENT CELL PHONE USE WILL BE ALLOWED IN THE CLINICAL AREA, so please turn the ringer off.

We may also require patients to use an antiseptic mouth rinse before being escorted to the treatment chair for certain procedures.
During Your Visit:
Orthodontist /Assistant will be dressed in PPE and ready to perform your visit. IMPORTANT NOTE: All patients will need to wear their mask until we start the procedure and will be asked to replace it once your visit is done.

After treatment is completed, our Greeter will escort you back out. (Or, parents will be notified via text or phone call to return to the office to escort their child back to their car.)
ONLY PATIENTS will be allowed into the office.

We understand the concern some parents or guardians may have about this policy, but please understand this is being done out of concern for your health, that of your child, as well as out of concern for our other patients being seen in our office.

Also, we are required by the Governor's Mandate to keep the total number of persons in the office to 10 or under at any one time. If you have additional concerns or extenuating circumstances, please contact us before your appointment.

We will give you your next appointment date and time after your visit. Please be aware that this next appointment may be booked out longer than you are accustomed to due to our current limitations on scheduling. If you need to change this appointment, please call our office.
Fewer Scheduling Options:
We will continue managing all appointments and continue to prioritize aerosol-generating procedures to ensure your safety at every visit.

Scheduling coordinators will be offering fewer options when scheduling patient appointments. If your following visit can be monitored appropriately with Telehealth, we may recommend that as well.
Telehealth
Triaging of all patient emergencies will be mandatory prior to setting up an emergency visit.

We will integrate Telehealth as a part of patient care, when appropriate.

It will allow patient treatment to continue moving ahead with fewer office visits. If a Telehealth "visit" is determined to be an option, you will be able to access a VIRTUAL CONSULTATION TAB on our office website home page

www.123braces.com

.
Thank you for being our patient. We value your trust and loyalty and greatly appreciate your understanding during this time. We are VERY excited to start seeing everyone again soon!
Sincerely,
Dr. Giordano, Dr. Bogle, and the Merrimack Valley Orthodontics Team


April 25, 2020
We hope you and your loved ones are safe and healthy. We have been monitoring the rapidly evolving COVID-19 situation and will continue to update you on the status of our office.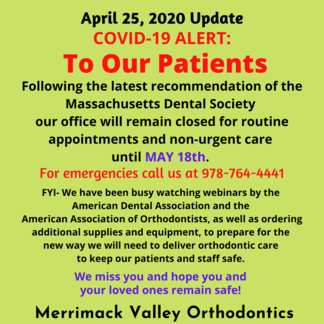 March 31, 2020

March 29, 2020
We will be contacting the patients who were scheduled during the coronavirus office shutdown to reschedule their appointments once the official directive is given allowing us to re-open.
March 25, 2020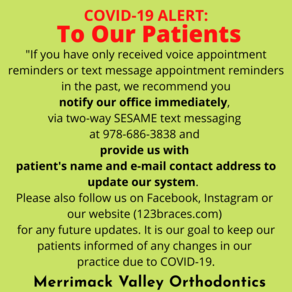 Join Us in Welcoming our
New Orthodontic Associate
Dr. Samantha R. Bogle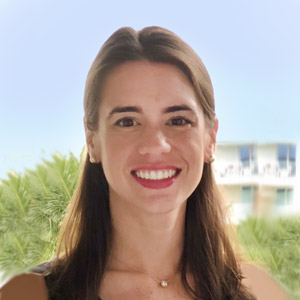 She joins our growing practice so that we may continue to provide you with the best service and orthodontic care possible.
"Spring Fever" Office Contest
February 26 - April 13, 2018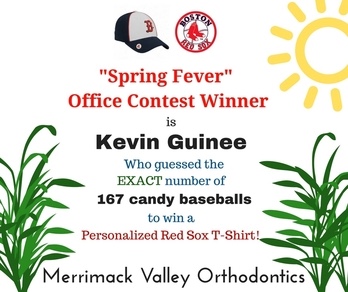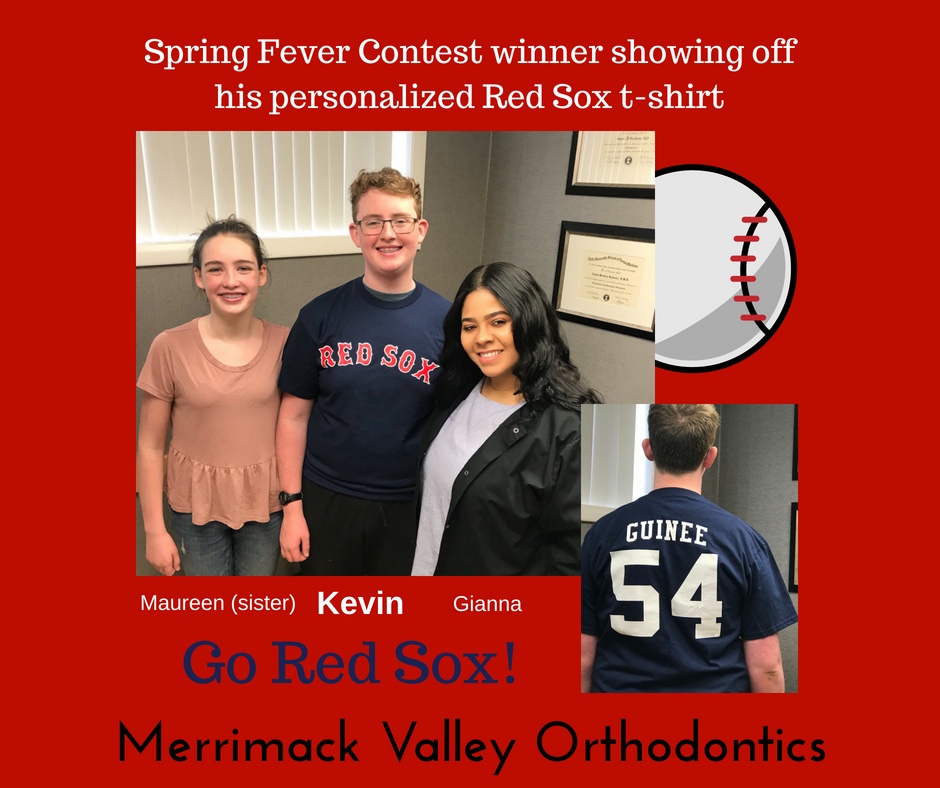 We are now on Instagram as
merrimack.valley.orthodontics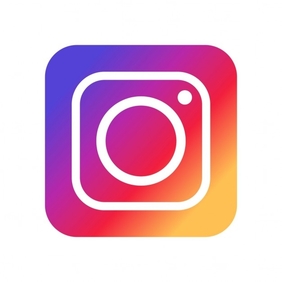 Friends on Facebook Contest
to win an iPad Mini
Ended December 20, 2017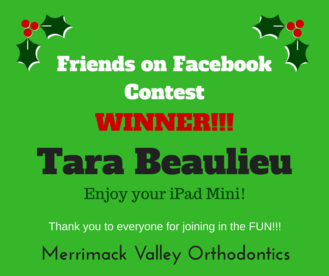 Facebook is a great way to receive future office contest announcements and communications.

Lazarus House - Hike for Hope
"Walk with the Docs"
October 1, 2017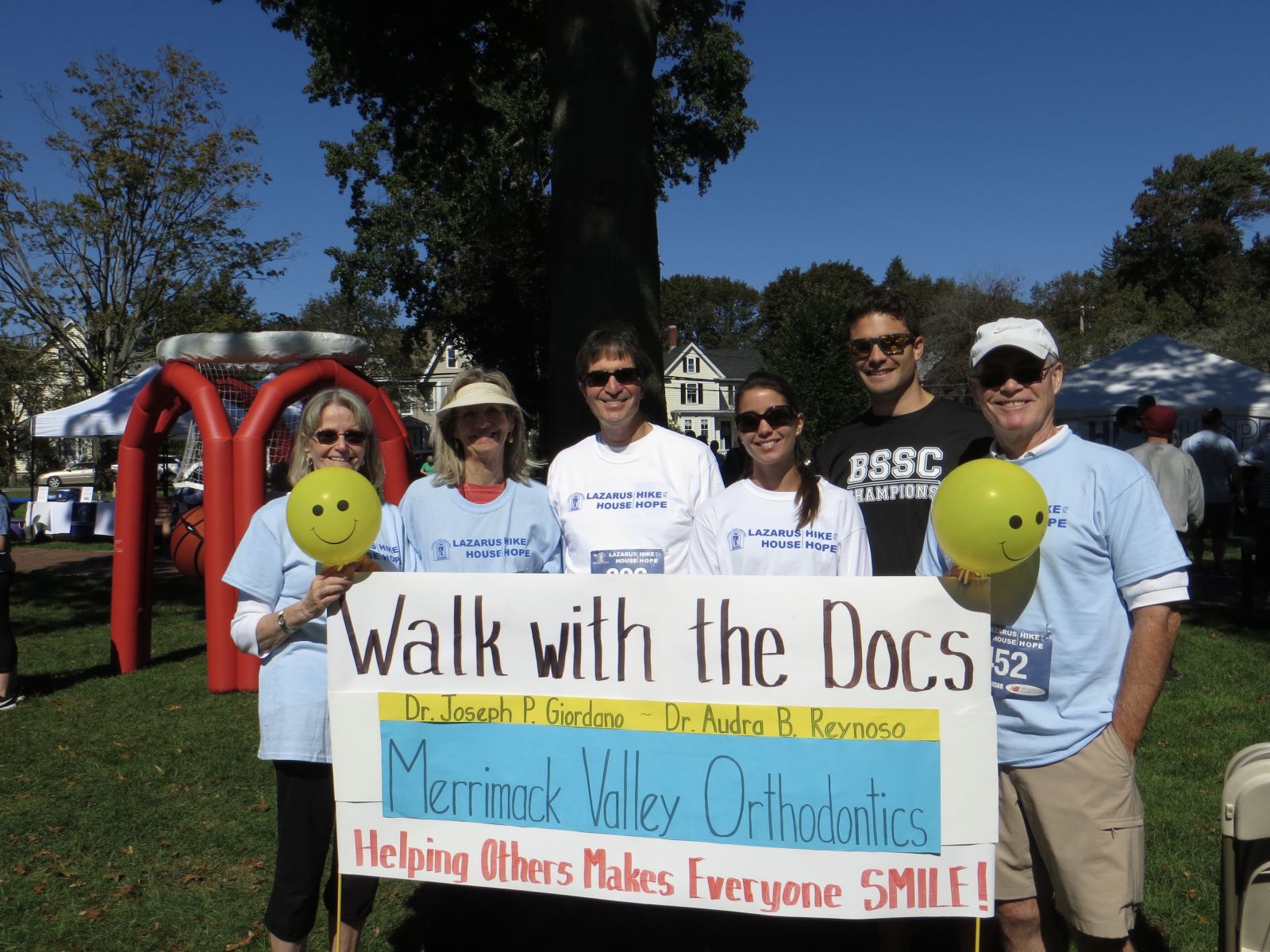 Thank you for your donations and for Walking with the Docs!
Helping others makes everyone SMILE!
Check out our new Facebook page. "Like" us to become a Friend and receive future office announcements and communications.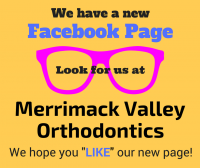 "Share the LOVE" Contest
January 18 - February 29, 2016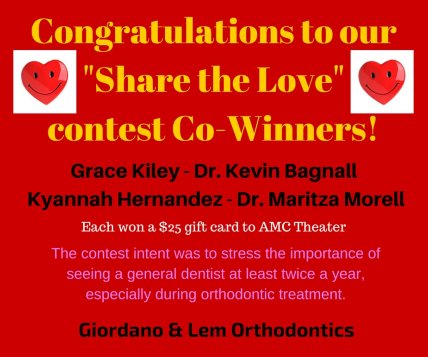 May 21, 2015 - Red Nose Day

Giordano & Lem Orthodontics is joining the fun and shenanigans by participating in Red Nose Day. Any patient who comes into the office and tells a funny joke or lets us take a photo of you wearing a red nose will have $1.00 donated to the cause.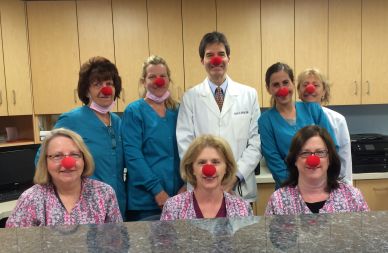 Red Nose Day is a campaign dedicated to raising money for children and young people living in poverty by simply having fun and making people laugh. In the UK, Red Nose Day has been going for 30 years and is an inspiring cultural phenomenon that unites people from all walks of life in the interest of saving and changing lives across the globe. This will be the first Red Nose Day in the USA. People across the country will come together to have fun and raise funds and awareness. The day's events will culminate in a spectacular live star-studded special on NBC from 8-11pm. Viewers will be encouraged to make donations by phone, and online. To find out more information visit www.rednoseday.org or http://www.nbc.com/red-nose-day.
"Spring Fever" Contest
February 16 - April 10, 2015

Congratulations to our three co-winners who guessed the exact number of baseballs in the jar. Each has won a personalized Red Sox t-shirt.
Co-winners were: Jason Kenneally, Emily Carroll, and James Melanson.
Enjoy the warm weather & GO SOX!!!
How Much Does the Pumpkin Weigh? Contest
September 15 - October 31st, 2014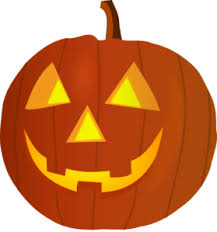 Congratulations to our Co-Winners with the exact weight guess of
14 lbs. – 10 oz and receiving a $25 gift card: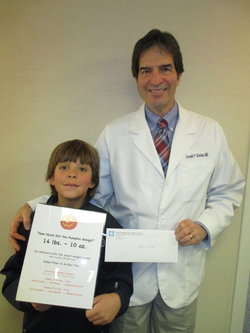 Aiden Pinet
Honorable Mention Winners: (Two Tickets to the AMC Theater at the Loop)
Guess of 14 lbs – 6 oz: Devin Greely - Jim Russo - Stephanie Henrick
Guess of 14 lbs – 5 oz: Julia Faranna - Lisa Apovian - Melissa Kovacev
We're hope-Fall that everyone enjoyed making their guess!
Cupid's Clouds Contest
January 6 - February 28, 2014
Congratulations to our two winners of the Cupid's Cloud Contest who both guessed the exact number of 417 "clouds":
Jake DiFraia and Isaac Frederique.

Both will receive a $25 gift card to Target.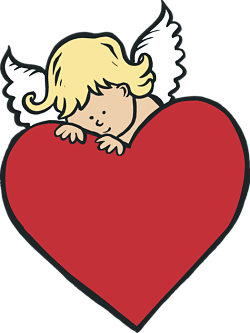 Count the Candy Corn Contest
September 3 - November 1, 2013
Guess how many candy corns are in the pumpkin jar (without going over) for a chance to win a $25 gift card. (All friends on Facebook will get their name added as a bonus entry to win a $25 gift card too.) We hope you have a wonderFall time making your guess!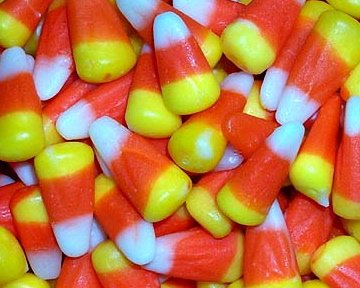 Congratulations to our winners:
Morgan Marconi with a guess of 562 (actual was 564)
Friends on Facebook winner: Beth Carlson
"Braces in Cool Places" Photo Contest
July 22 - August 31, 2013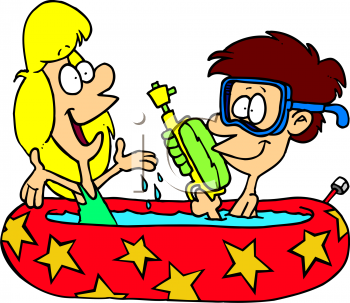 Andover123braces.com Website
To help Andover and North Andover residents find us, we now have a new website at www.andover123braces.com. Check it out.
We're now on Pinterest!
We're now on Pinterest! Check out our boards: Breakfast with Braces, Snacks with Braces, Great Ideas, and Awesome Products. See all our boards at Giordano & Lem Orthodontics. http://pinterest.com/giordanolem/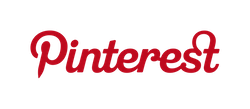 "Do You Feel LUCKY?" Contest
January 14 - March 16, 2013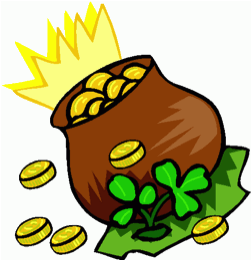 Congratulations to the winners with the closest guess to the actual 148 gold nuggets:
Jonathan Bailey (147 gold nuggets)
Sam Tankel (147 gold nuggets)
Our "extra lucky" Facebook Fan winner is:
Lyn Rawlings Dwyer
Each won a $25 gift card to Lowes Movie Theater.
"Healthy SMILES are HEART-to-Beat" Contest
January - February 29, 2012
Congratulations to our Co-Winners Nadia Carrillo and Jack MacMullin with their guess of 540 hearts (actual was 542). Both won a $25 gift card.
In their honor a donation has also been made to the American Heart Association.
SMILE and remember your oral health & HEART are important to us!

Halloween Candy Buy Back - 2011
Thank you to those who brought in candy or made a donation! 67 pounds of candy was sent to Operation Gratitude who sends care packages to U.S. Military. Congratulations to Maria Luccisano who won a $25 gift card.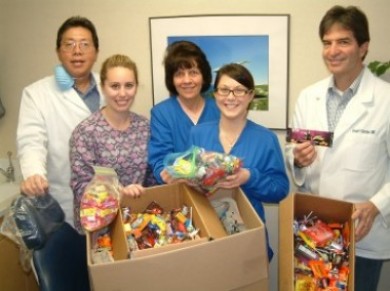 "Spring Cleaning" Contest
Feb. 14 - April 30, 2011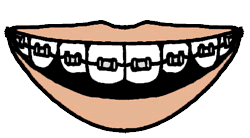 Congratulations to the winners who were randomly selected from the patients who had excellent oral hygiene at their appointmnent.
John Hoar, Sophie Meyers, Erica Nork, & Christina Pare
We hope everyone continues their excellent efforts at keeping their teeth so clean.
"Spring Fever" Contest
Feb. 14 - April 8, 2011
Congratulations to our contest winners and here's what they love about Spring
Caitlin Buggy - "I can grow my garden and eat my home-grown food."
Alex Crespo - "It's closer to the end of school."
Allison Flagg - "You can ride your bike and play outside."
Joseph T. Guinee - "It's baseball season and it's almost summer."
"School's Out for Summer!" Contest
June 1 - July 31, 2010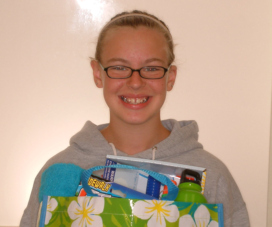 Winner of the beach bag & all it's contents:
Jessica Flynn
"Smiles of Summer" Contest
July 1 - August 31, 2009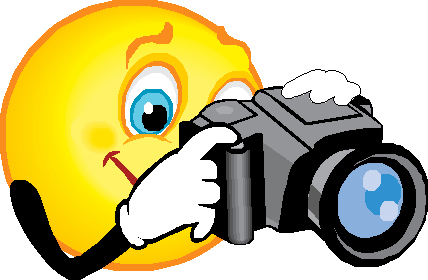 Bring in, mail, or e-mail a "grinning" photo of yourself with your family or friends having some summer fun.
Congratulations to our Winners:
Best "Beach" Photo- Lauren Johnson
Best "All Wet" Photo- Emily Wall
Best "Biggest Grins" Photo- Max & Sebastian Russell
Best "Friends" Photo- Alycia Wells & Alexis Hardy
Best "Team Spirit" Photo- Alexandra Amero
Best "Concert" Photo- Savanah Bynum
Best "Farthest From Home" Photo- Zachary Robinson
Best "Family Grins" Photo- Alex & Heather Crespo
Best "Highest Altitude" Photo- Cammi Balentine
Best "Hot Rod" Photo- Shauna Goutier
Best "Biggest Background" Photo- Jack & Madeline MacMullin
"Pick a President" Contest
(Ends Nov. 4th, 2008)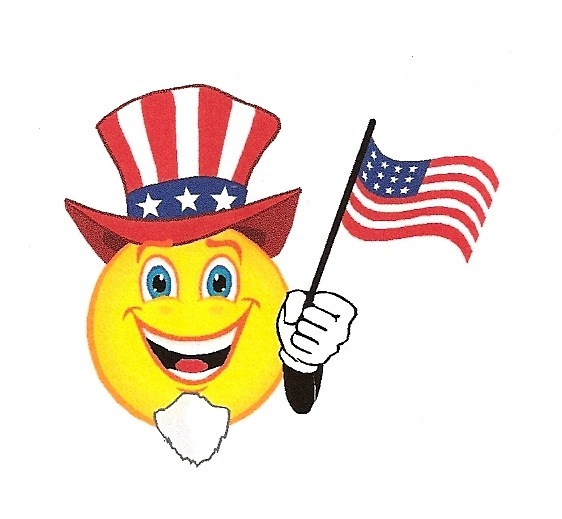 Cast your vote for the candidate you think will win the Presidential election. If your candidate wins, you will have a chance to Win a $25 American Eagle Outfitters or Papa Gino's gift card.

Remember everyone only gets ONE vote!
Congratulations to our winner: Michelle Gencorelli
"Walk with the Docs"
9th Annual Hike for Hope
October 5, 2008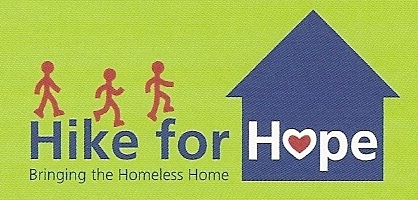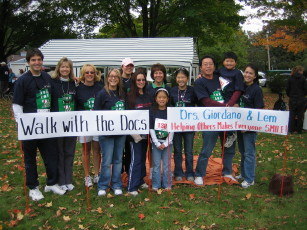 Helping Others Makes Everyone SMILE!

A special "Thank You" to our patients, family, and staff for walking and donating to this wonderful cause.

Congratulations to Denise Finley for winning the $50 New Balance gift card.
"Summer Fun & Games" Contest
June-August 2008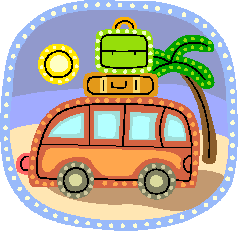 Congratulations to our winner:

Sean Powell
Favorite game - Asteroids

Top favorite games: Snake & Brace Painter
"You Gotta Have Heart" Contest
January-February 29, 2008

Guess the number of hearts in the canister (without going over) and WIN a $25 AMC Entertainment Card. PLUS a donation in your name will be made to the American Heart Association.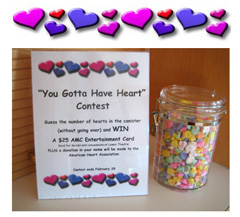 Congratulations to our Contest Winners:

Samantha St. Pierre 1,074 (exact guess)
Nancy Burke 1,051
Gary Baginski 1,050
Office Renovation Summer 2007
We now have a bright, newly renovated office to serve you better. See more pictures in About Our Office - Tour Our Office.

Digital x-ray imaging
Our new digital x-ray and imaging unit is the latest advancement in diagnostic technology, providing high-quality detailed images.